Happiness And Sadness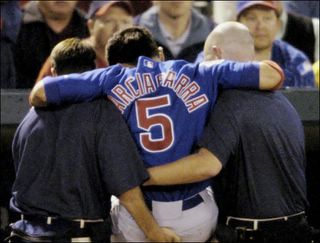 There's something about
winning a 1-0 game
that makes the game of baseball even more worthwhile to revolve your life around. You know that every play could decide the game, every groundball could separate the goat from the hero, and every fly ball must find a glove. Every pitch is huge, every call is huge, and most of all, every at-bat could completely swing the game around. When you win a 1-0 game, your defense and pitching comes together for an outstanding effort, an effort that makes you say to yourself, "damn, I guess we are really good."


1-0 games make for an interesting combination of pitching dominance and every hitter colliding with their collective brick walls. When you're facing a lineup with two sure Hall-of-Famers (Sosa and Palmeiro), the RBI champ (Tejada), a guy hitting .425 (Roberts), and another All-Star (Lopez), you're in for a juggernaut right out of the gate. Didn't even mention Mora, who had three hits last night. I think Francona realized that his team needs to score runs right out of the gate to contain a Baltimore team that killed us last season, but we didn't even need to pull that out of the ole arsenal. For Clement, Wells and the bullpen to hold the O's to zero runs over 18 innings is astonishing. A momentum builder. Zero. Zip. Zilch. No runs.

1-0 games also provide the viewer and the actual players with overwhelming drama. Such to the point where Curt Schilling was rocking back and forth in the dugout, no face reactions, biting his fingernails, hoping his team comes out on top. He was even coaching Clement between innings, a nice Creed-Balboa thing going on. You could tell Schill wanted to win this game just as much as Clement, or he was just trying to look good. One of those two.

As for
Nomar's recent injury
, I personally think he will be out for the remainder of the season, just re-hashing him as another victim of Cubbie lore. His injury situation is really bad for the Cubs, who continue to struggle with a bullpen best suited for the Birmingham Bees.

Where Nomar was in spring training of 2004 to where he is now is a bigger downfall than Kevin Costner took. The Red Sox were offering him a huge sum of money, he was the hero of the town, and the most popular player in the city. Then he pissed everyone off, wound up out of Boston, they end the curse without him, and now possibly his career is in jeopardy. Big ouch.

Well, the Sox have reached the 10-win mark, and travel to Tampa with Wake, Schilling and Arroyo taking the hill. Not bad. Anybody care for another sweep?