Come Together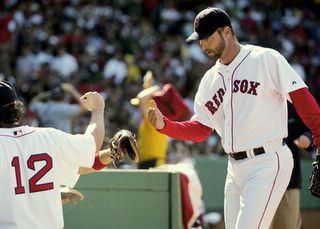 The Red Sox are starting to come together. Sure, we don't see the frequent behind-the-back handshakes, head rubbing and hugging like last season, but they're pitching at a torrid pace and the new guys seem to be enjoying their stay. I noticed Francona always acknowledges Payton and Renteria when they get a hit, or even try to keep them confident with a little pat on the back. Francona jokes with Renteria in the dugout at times, even busting a rare grin out of Edgah. It's great to see these new guys drive in all three runs today.


The most important player, and definitely the MVP- Tim Wakefield. His knuckler is dancing more than ever, and when he mixes up his fastball and curve to the young hitters, the guy is practically un-hittable. I mentioned yesterday that Wake struggles against the weaker teams- turns out he's 11-1 lifetime against the D'Rays. It seems like the same thing is re-occurring with the Rays every game this series. They test our pitchers early and send a scare through the Red Sox, but end up walking too many batters and getting in trouble. The youth will learn though, and I'm sure Brazelton and Kazmir will improve on the control issue as their careers move forward.

Also, Embree looked phenomenal today. Mantei was also in control, and Foulke had a flawless ninth for the save. If I am pleased with anything the most today, it's the work out of the bullpen. If Millar, Billy M and Bellhorn can get going down near the bottom of the order, watch out. The Sox are moving the right way.

Meanwhile, the Yankees really do suck. I'll let King George sum up the feelings of Yankee fans:

"Enough is enough. I am bitterly disappointed as I'm sure all Yankee fans are by the lack of performance by our team. It is unbelievable to me that the highest-paid team in baseball would start the season in such a deep funk. They are not playing like true Yankees. They have the talent to win and they are not winning. I expect Joe Torre, his complete coaching staff and the team to turn this around."
Always fun when you get a pissed Steinbrenner quote in mid-April. Good times.

Tomorrow we get Schilling on Patriots Day, a yearly tradition that calls for the first pitch to be around 11:00 ET. David Bush, a young gun from Toronto, will face Schill. I don't see any reason why the Sox won't keep this going under the Fenway sky…