The Curse Of Scott Hatteberg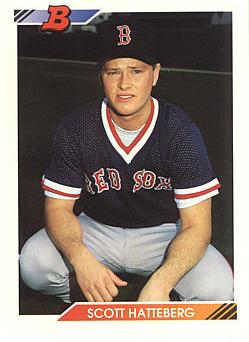 Also seen on Firebrand of the AL:
I did my best to ignore the hideous red jerseys the Red Sox sported today, but it was impossible to ignore the performance on the field. Right out of the gate it was a massacre waiting to happen, with Clement lasting just over an inning, giving up seven earned on eight hits and zero strikeouts. Even when he got some rare outs, they were lined shots or tough plays. With every start, I'm doubting Clement more and more. Not just his stuff as a pitcher, but his endurance and mental toughness. He was always a little shaky on the Cubs, and we're starting to notice as his ERA continues to climb at an errant pace.


Any silver lining? Well, Machado got his first hit and Billy Mueller homered for the first time this month. Foulke pitched two innings and didn't give up a run. No, you're not going crazy, he actually didn't give up a run, and its so awkward seeing Foulke out there down eleven runs. But overall it was a complete and total breakdown, even Jeremi Gonzalez chipped in with a poor effort. Tito pretty much surrendered when he removed Damon, Manny and Papi, while the A's picked up a huge win.

Then I flipped over to YES and the sickening voice of Michael Kay (whaaaaaaat a PHENOMENAL play by Derrek Jeter, ohhhhhhhhh MY he is the savior, just a TREMENDOUS play). He doesn't even try to be objective anymore, just complains when the Yanks don't get a call and drools over the players. Makes me want to throw up, really. As for the game, where I was rooting for a Blue Jay team I strongly dislike, the Jays pulled out a tough win 5-4. The Yanks made it interesting in the last inning with a Rowing The Cano double that scored Matt Lawton, but Jeter went down looking and the lead remains 1.5. You should have heard Kay after the ump called Jeter out looking on an obvious strike…

The Tribe also killed the RoyAAAls 12-0, so the Yanks lost a game in that category, making this sad day not completely and utterly terrible (no, I'm not Bob Ryan). Hopefully, the bats and pitching will straighten themselves out for our 145th series vs. Tampa this season. Trot needs to heat up. Tek needs to heat up. Edgah needs to heat up. In order to keep this slim lead over the Yankees, these games against Tampa are crucial. I love this time of year, when every game is a must win and every loss means flipping over the coffee table and pouring boiling water down your throat. Good times.

Maybe this quote from Kevin Millar will brighten up the day:

"I think this is a team that thrives on adversity,' says Millar on his Red Sox, 'I talked to one of our former teammates who's now on the Yankees, and he couldn't believe how different it is, how everyone goes his own way as soon as the game is over. I know this team is crazy and all that, but we're all in the clubhouse at 2:30 every day, getting on one another, and we hang out long after the game is over. You hear stuff about teams that have each other's backs, but it's real here."