Representing The American League
I've spent way too much time wavering back and forth between certain All-Star candidates, deserving players and possible snubs. I've looked up the stats, considered possible scenarios in the actual game, and even followed the skewered rules. First, you have to select one player from each team, only a deaf monkey wouldn't know that. Second, the fan votes for starters on the team will be automatically added, followed by the players and manager additions and the final vote of five choices on MLB.com. Here it goes:

American League Starting Lineup (based on the fans vote):
1. 2B Brian Roberts, Orioles
(.365, 13 HR, 44 RBI, 1.054 OPS)
He gets the leadoff role, even though Damon might get it because Roberts can drive in some runs lower in the order. And Francona is the manager.

2. RF Vladimir Guerrero, Angels (.351, 14 HR, 54 RBI, 1.016 OPS)
This guy is a machine. He was out for, what, three weeks and he's got those numbers?? Are you kidding??
3. 3B Alex Rodriguez, Yankees (.329, 20 HR, 66 RBI, 1.013 OPS)
4. DH David Ortiz, Red Sox (.304, 19 HR, 66 RBI, .960 OPS)
5. LF Manny Ramirez, Red Sox (.276, 19 HR, 68 RBI, .909 OPS)
6. SS Miguel Tejada, Orioles (.322, 19 HR, 60 RBI, .968 OPS)

Tejada gets more votes than fan-favorite Jeter, something that baffles me. Everyone loves Jeter.

7. 1B Mark Teixeira, Rangers (.291, 22 HR, 64 RBI, .930 OPS)
Wow, the Rangers have a bright future. If only they could get some pitching.
8. C Jason Varitek, Red Sox (.310, 13 HR, 33 RBI, .934 OPS)
9. CF Johnny Damon, Red Sox (.339, 3 HR, 41 RBI, .846 OPS)

Johnny's not in Kansas City anymore. The Caveman inches past Ichiro on the last day (according to Boston.com) and gets the last starting position.

And for the reserves (my choice):

C Ivan Rodriguez, Tigers (.295, 5 HR, 29 RBI, .758 OPS)

Seriously, there's nobody at this position. NOBODY! The Artist Formely Known As Jorge Posada was my second choice.

1B Paul Konerko, White Sox (.246, 19 HR, 53 RBI, .842 OPS)
2B Alfonso Soriano, Rangers (.282, 20 HR, 50 RBI, .870 OPS)
3B Melvin Mora, Orioles (.300, 14 HR, 46 RBI, .870 OPS)

Mora inches past Blalock and Farmer Shea for this backup role. The deciding factor was his versatility and availability in many positions, even a ninth inning catcher, if necessary.

SS Michael Young, Rangers (.325, 11 HR, 40 RBI, .863 OPS)

One of the great up-and-coming players in the league.

OF Gary Sheffield, Yankees (.300, 13 HR, 55 RBI, .898 OPS)
OF Kevin Mench, Rangers (.297, 15 HR, 42 RBI, .933 OPS)

Really made a strong case for himself with that three-homer game. Nice looking OPS, too.

OF Emil Brown, Royals (.297, 8 HR, 37 RBI, .840 OPS)

You try to pick a Royal.

OF Garrett Anderson, Angels (.308, 10 HR, 59 RBI, .798 OPS)

Besides driving in 59 runs, he's my favorite non-Red Sock on the planet. Therefore, he gets the nod over Nixon (sorry), Ichiro (he'll win the fan vote), Hunter, Dellucci and Scotty Po.

DH Travis Hafner, Indians (.296, 13 HR, 49 RBI, .943 OPS)

Obvious choice for the backup DH (that doesn't sound right). He's been red hot lately.


Pitching staff (my choice):

Mark Buehrle, White Sox (10-1, 2.42 ERA, 1.04 WHIP)
Jon Garland, White Sox (12-3, 3.25 ERA, 1.06 WHIP)
Roy Halladay, Blue Jays (11-4, 2.40 ERA, 0.94 WHIP)
Bartolo Colon, Angels (10-4, 3.02 ERA, 1.15 WHIP)
Johan Santana, Twins (7-4, 3.78 ERA, 0.97 WHIP)
Matt Clement, Red Sox (9-1, 3.33 ERA, 1.25 WHIP)
Chris Young, Rangers (8-4, 3.33 ERA, 1.16 WHIP)

Since Rogers is suspended for 20 games, I'm leaving him off the list and replacing him with teammate Chris Young. Buehrle gets the nod for the start, he's got the least amount of losses and lowest ERA. Seems like the obvious choice. Santana gets in mostly for reputation and the low WHIP, and Colon has come on very strongly of late.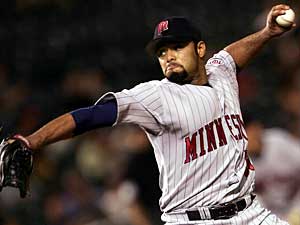 Mariano Rivera, Yankees (4-2, 0.91 ERA, .150 BAA)
B.J. Ryan, Orioles (1-1, 1.72 ERA, .194 BAA)
Justin Duchscherer, Athletics (3-1, 1.31 ERA, .208 BAA)
Francisco Rodriguez, Angels (2-1, 2.57 ERA, .180 BAA)
Rivera and Ryan have been completely un-hittable this season. Period. F-Rod gets the spot over Timlin and Jesse Crain (0.99 ERA) because A) Timlin's BAA was .275 = way too high and B) Rodriguez's nasty stuff gives the AL the best chance to win the game.

And for the last fan vote, the candidates are:

Derek Jeter (.304, 10 HR, 35 RBI)
Ichiro Suzuki (.294, 6 HR, 27 RBI)
Richie Sexson (.241, 17 HR, 57 RBI)
Grady Sizemore (.306, 8 HR, 37 RBI)
Hideki Matsui (.305, 10 HR, 59 RBI)

Ichiro and Matsui both have large fan bases, so one of them gets the final vote. I'll go with Ichiro.

I won't be writing for a while as I'm currently on vacation. Go Sox.