Booming Victory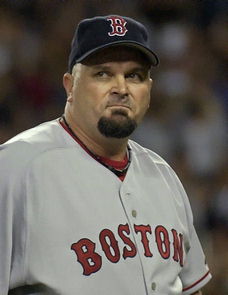 Mr. David Wells brought me to a better place tonight.


The first inning I was hitting the panic button. I actually uttered the words "this guys career is probably over" after Sheffield lined the second homer of the inning to tie the score at two. Then we poured on some runs with the help of Edgah machine and the "warm weather" factor that seemed to be his excuse for taking dumps all over the field in the last month or so. All is forgiven. Papi had already sent a ball onto the black seats in center, Reggie Jackson-esque. He hit that ball wicked hahhd.

Then Wells seemed to calm down. All of a sudden, the crowd wasn't getting in his head. His team wasn't making mistakes and errors behind him. Wells and rookie Kelly Shoppach (this guy is MUCH better than the 0-fer he put up tonight) really worked together well. As inning after inning passed by, I kept thinking I was high or drunk because Wells was still pitching. What is going on here? David Wells, on the mound, in the NINTH FREAKIN INNING??? Am I dreaming?

Then Francona took out the hook, the claw and the shovel and dug David Wells' complete game into the mud. Damn you sometimes, Tito.

The Red Sox got, count em, more than forty hits in the last two games. They outscored the Yankees 24-4 in those same games. Edgar Renteria is up to .290 and scorching hot right now. At one time in this game he was 12 for his last 14. Manny, at one point in the game, was 7 for his last 7, all singles. Nixon and Varitek are over .300, and Damon is third in the AL in average. Clement is 6-0. Let's take this sweet momentum to the Pahk and win some more games.

I've never felt better about my Sawx.