Boston Massacre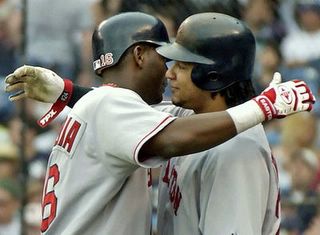 It really doesn't get much better than that. Some games you have an offensive onslaught, a sloppy game, a game with tons of runs and a back and forth juggernaut. Some games are pitching duels, with the two teams hanging close and one team busting it open at the end. Some games are boring, some games are interesting, some games are classics. But, nothing, and I mean NOTHING (besides Games 4 and 5 of the ALCS, but those were so god damn nut busting) beats what happened today at Yankee Stadium, playing our most hated rival. On their turf!


Seventeen runs. Twenty-seven hits. I haven't experienced this much overwhelming joy since winning the World Series. I missed that feeling, believe me, I was about to hang myself over my bathtub after last night debacle. We got a little dose of the old Edgah we're formally known to seeing over the years. We got some Trot magic. We got a big batch of Manny singles. Damon had seven friggin at-bats. That's crazy. A beautiful game on a tremendous Saturday afternoon (and I mean that in the biggest way possible).

But here's the trick. The Red Sox have to keep it going.

This team can't get too over their heads and blow up in the next couple games. We've got a major game in the Bronx tomorrow night, then two huge series with the Orioles and Angels. This is time to bare down focus, and sweet mother of Christ, win some more ballgames! We might need 17 and 27 for Boomer tomorrow night, though. Whatever gets the job done.

I loved what I saw today, and I bet all of Red Sox Nation just nodded their head in agreement. 26 hits is something to be really, really proud of. And it was the Yanks.