Win One For The Skipper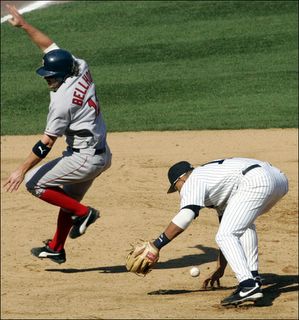 It's now official: The Boston Red Sox own Mariano Rivera.

We needed this victory very badly, even though it's early April. First of all, any win against the Yankees deserves recognition, especially when you do it in this type of fashion. Yesterday was nut-busting, just painful. Today Rivera blew up again, this time showing a lack of control I've never seen before. Never in my life would I ever consider the possibility of seeing Joe Torre take the ball from Mariano Rivera. Ever.

It's really hilarious when people think of Yankee fans as the most knowledgeable and passionate in the game. Stuff like the fans showing professionalism and class, total bull. Today, those "fans" booed Rivera off the mound in one of the most senseless acts by a crowd I've ever seen. This guy has been a key contributor in four World Series victories, is the rock that holds your bullpen together and is regarded as the ultimate postseason closer. Yet, your fans seem to forget all of that in booing Rivera following an April disaster. He hit a rough patch, everyone needs to acknowledge that this happens to every player at one point in their careers, I don't care if you're Xavier Nady or Mariano Rivera. But to see them boo him, a guy who has done wonders for the Yankees, is unbelievable in my mind.

Moving away from that topic, it was awesome to see Renteria come through in the clutch, driving a single into left, making the game 6-3. He was being hammered in every area of his game by the Boston media, but today pretty much clinches the game for his team. Now people can remember the All-Star this guy really is.

Now, I don't know what a "true" Yankee really is. I guess they resemble the guys that won championships in the late 90's, the Scott Brosius, Chuck Knoblauch, Paul O'Neill, Bernie, Jeter types. Maybe the Red Sox are right, maybe Alex Rodriguez is not a true Yankee. It just seems very fishy how nobody stood up for him after the Nixon "clown" incident, and now after he had that horrid error. E-Rod cost the Yankees the game. Period. He fields that grounder cleanly, bring out the brooms.

The lineup is starting to come together, the bullpen looks tremendous (especially when Timlin went chin music with Jeter), and Wakefield pitched great today. I think that win will really pick us up and carry the Sox to a series win over Toronto this weekend.

If I didn't make it clear, thank you E-Rod. And getter better Tito.