Oh, How I Miss The Day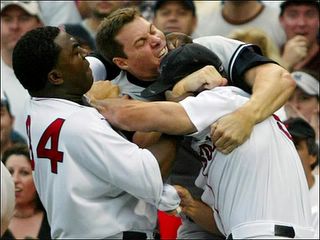 The Yankees and Red Sox meet on the grass for the first time since the ALCS last night. A rivalry renewed in a less generous fashion than the final four games of the ALCS, but it was great to see the Pinstripes and Sawx back on the diamond again. Part III of the flaming rivalry began last night, and man did I miss everything about it…


I miss the past balls, high heaters and head-skimming brushbacks. I miss the roaring crowds representing the two best teams in baseball at the two best stadiums in baseball. I miss the prominent gray and the bold New York of the Yankee uniforms as they prance onto the slick Fenway grounds for another contest, and the bright white and red, clean as a whistle, Red Sox unis ready for battle. I miss the sounds, sights, announcers…yes that means you Joe and Tim. I miss the classics, the miracles, the rubber matches and the hype.

I miss A-Rod getting a taste of his own medicine, delivered to the mouth by the Captain. I miss the same villain deciding it was better to cheat, and providing a hilarious slap of his own. I miss the Jeter pumps, the Manny trot, David Ortiz crouching once again…ready to pounce on a Gordon 2-0 fastball. I miss flipping off Billy Crystal and That Raging Idiot Down The First Base Line (name anonymous), and grinning at Ben Affleck and Matt Damon.

I miss looking at Fenway and Yankee Stadium, and knowing I'm part of the rivalry. The sleepless nights, bad times, good times, the times I wish Gary Sheffield was hanging himself on my front light. I always wondered how he could pull a 95-mph fastball that's miles outside of the strike zone…

I miss the rivalry. I miss the Yankees and the Red Sox playing for real. We're almost there.