Previewing the Evil Empire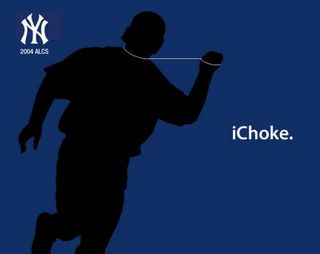 The Yankees are hungry, angry and ready. The Yankees want to regulate the baseball standings like it should be, with them always on top and the last ones standing. They're sick of these idiot, cocky Red Sox yapping about their players, calling one certain cheater a "deadbeat dad", and blaming their own manager for their problems in pinstripes. They're tired of responding to brash media about being the victims of a gigantic choke of intolerable proportions. They just want to play baseball.

Lineup: SS Derek Jeter, CF Bernie Williams, 3B Alex Rodriguez, RF Gary Sheffield, LF Hideki Matsui, DH Jason Giambi, C Jorge Posada, 1B Tino Martinez, 2B Tony Womack

The Yankees have a lot of bright spots, holes and question marks going into 2005, surprising with a 186 million dollar payroll. Jeter will just about guarantee you .300 every year, but he has struggled in that leadoff role. Look for Womack, if he's not hitting around .250 at the time, to move all the way up. Bernie is not a bright spot in that 2 hole, he's very old and will sink lower in the lineup as the year goes on. The 3-5 hitters are a murderers row for pitchers, but need to perform in the clutch this season. They hit a combined .143 in Games 4-7 of the ALCS last year. King George isn't putting up with that again, I guarantee it. Jason Giambi is the biggest question mark. He has the whole steroid controversy flying over his head, isn't much of a clubhouse presence, and will probably hit like his brother this season. Look for him to struggle mightily. The bottom of the lineup is weak. All the Yankees fans are beaming over this Tino signing, but he's way past his prime and makes frequent errors. Womack can hit .300 and .230, you never know. He wasn't even going to make the Red Sox team in spring training last season.

Grade: A-
Rotation: (Le) Randy Johnson, (Ri) Mike Mussina, (Ri) Carl Pavano, (Ri) Jaret Wright, (Ri) Kevin Brown

Looks great on paper, but age and consistency is a problem. Johnson is 41 years old, sometime his guys' arm is going to take a toll. Look for him to have a pretty good year, but Moose to take over in the postseason. Mussina's going to have a HUGE year. Pavano and Wright have amounted for three good seasons in eleven combined, including many surgeries along the way for Wright. These guys were coming off contract years and pitching their asses off- but the Bronx pressure and that inconsistency factor will be a problem. Subpar years for Pavano and Wright. The wild card is Kevin Brown, who had a great regular season and folded in late 2nd half/postseason. If he can come back healthy, they have the best #5 starter in the league. If not, Cashy will be pressured to deal for a solid number five at the deadline.

Grade: A-
Bullpen: (Ri) Mariano Rivera, (Ri) Tom Gordon, (Ri) Felix Rodriguez, (Ri) Paul Quantrill, (Le) Mike Stanton, (Ri) Tanyon Sturtze
This is a vastly overrated bullpen. Rivera is great, but they're all old and right handed- bad combination. I not only think the bullpen will struggle all season, but cost the Yankees a trip to the World Series in the long run. Rivera is 35, Gordon is 36, Rodriguez is 32 (a desperation pickup), Stanton turns 37 in July and Quantrill is 36. And Stanton is the only lefty.

Grade: B-
The Yankees will meet the Red Sox in the ALCS again this year, and the year after that…and every year until the apocalypse. This rivalry is at an all-time high. I can't wait for Scene III.

Season Finish: Lose in ALCS