Bloody Sock Debate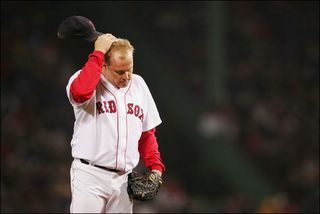 Just imagine this opening day scenario- Red Sox vs. Yankees, the biggest and most fierce rivalry in baseball, coming off an ALCS none of us will ever forget. The game in Yankee Stadium, in front of 55,000 and a nationally televised audience. Randy Johnson vs. Curt Schilling, two teammates that won a World Series together and have enjoyed arguably more success than any two future Hall-of-Fame pitchers. Now they meet again, this time as enemies. The Red Sox come in with the swagger, the Yankees looking for revenge…

This would be the ultimate opening day scenario, right? Well, I hope it doesn't happen.

I hope Curt Schilling rests his ankle for as long as it takes. If he has to sit out all of April, fine. As long as he's ready for October. The guy is getting old now, and after the amount of strain and force he used on the ankle last October, there's ready no point in rushing. It's the beginning of April, guys. No biggie.

If we have to use Abe Alvarez or, even worse, "Middle Finger" Kim as our fifth starter for a month, so be it. Sure, I'd love to see Johnson and Schilling match zeros until Rivera comes in and blows the game, but I'd happily save that memory for October. Please Mr. Francona, do the right thing.

Think about this: Wouldn't David Wells pitching in this game be just as entertaining? Boomer coming back to Yankee Stadium, where he was a fan favorite and experienced great success. The guy even pitched a perfect game on this diamond, along with winning three World Series rings. Now he's in a Red Sox uniform, on Opening Day, joining the Yankees bitter rivals. Will the lovable Boomer get booed? Standing ovation? I can see Boomer pitching a phenomenal game.

April 3: David Wells vs. Randy Johnson. Mark it down, folks.